Rhett Barnwell: Composer-in-Residence
Rhett Barnwell is a composer, arranger and performer, and the founder of Seraphim Music, which publishes sacred, classical and meditative music for lever and pedal harp. He has concertized extensively in the United States and in Rome, Venice, and Florence, Italy, and Ireland. A specialist in classical and sacred music for the lever harp, he has been in demand as a presenter and performer at conferences such as the Southeastern Harp Conference, Somerset Folk Harp Festival, Harp Journeys, Beginning in the Middle, Harp Gathering and others. He has organized biannual Liturgical Harp Conferences since 2007. He has given workshops and concerts for American Harp Society Chapters in Washington, D. C., Minneapolis, Nashville and New Orleans, and is regularly commissioned to write new works. Mr. Barnwell earned a Master of Music degree from St. Louis Conservatory and did post-graduate Doctoral study at the University of Georgia. In addition to the harp, he also plays the cello, French horn, and organ, and has performed with the Spoleto Festival Orchestra, Orquesta Sinfonica de Tenerife, AIMS Festival Orchestra in Austria, South Carolina Philharmonic, Charleston Symphony, and other orchestras. He has served as a Director of Music and Organist for churches in the Southeastern U. S. since 1983.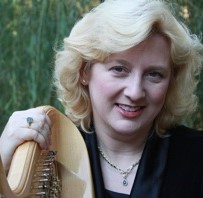 Julie Koenig: Harpist-in-Residence
According to legend, Julie Koenig was the Atlanta Harp Center's first customer. These days she works part-time at the store filling orders for strings and music, tuning showroom harps, restringing consignments, and recording audio clips.
Julie is an Atlanta-based harpist with repertoire ranging from classical to contemporary music. An Ohio native, she played with the Dayton Philharmonic Orchestra and earned a Bachelor of Music degree in Harp Performance from the University of Cincinnati College-Conservatory of Music. After freelancing in Miami, she moved to Atlanta and became principal harpist with the Georgia Symphony, DeKalb Symphony and Gwinnett Symphony orchestras, and is a regular sub for the Atlanta Symphony Orchestra. Julie has also played harp on European tours in Rome, Italy and Vienna, Austria. She performs with several Atlanta area choral groups and has played for thousands of weddings.
In her spare time, Julie can usually be found attending an Atlanta Braves game or rooting for the Cincinnati Bengals.