Hangin' with the Harp - Every Third Tuesday, 4PM EST
Next Hangin' with the Harp - 6/15/21
AHC would like to invite you to a harp "hang" every third Tuesday at 4PM EST. Each month you can join some of our favorite harpists for a half hour presentation followed by a 10 minute Q&A covering a variety of topics to keep you inspired and excited with the harp during these challenging times. Each live stream will also be proceeded by a brief live chat with AHC owner Mary Jane D'Arville and harpist Robbin Gordon-Cartier! Can't make it? No problem! You can catch the replay on our Youtube channel and Facebook page.
Next Hangin' with the Harp - 10/19/21
The Holidays are Coming
Are you ready?
Hangin' with Mallory McHenry
Sung to the tune: My Favorite Things (with apologies to Richard Rogers!)
First comes Thanksgiving
Then end of November
Gigs and zoom tapings
All too soon, December!
Join Mallory and she'll get you all set.
You'll be prepared so you don't have to fret!
A PDF for this session is available here.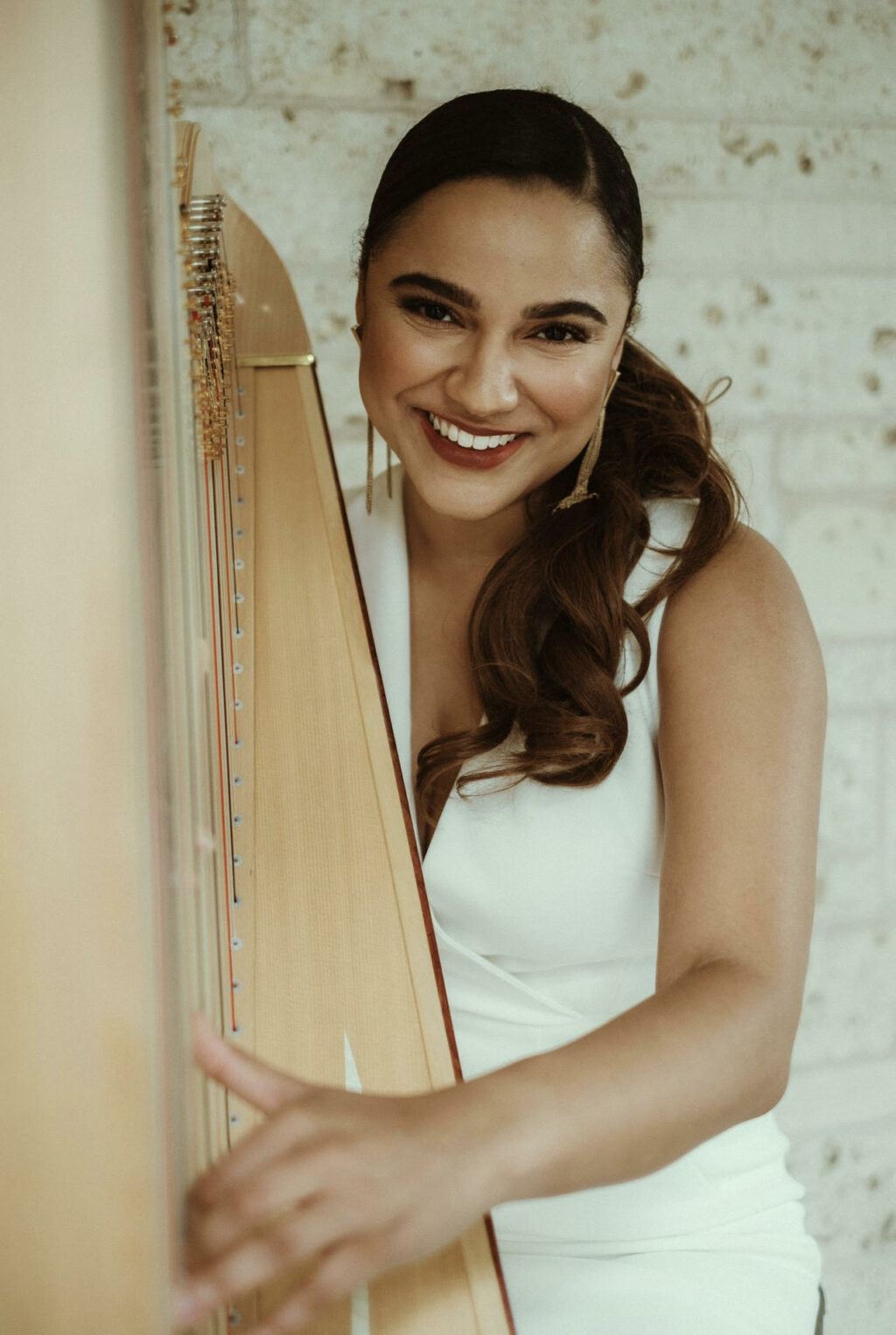 Dr. Mallory McHenry, NCTM is a vibrant musician and educator in Fort Worth, Texas
where she serves on the Texas Christian University School of Music faculty. At TCU
Mallory teaches harp, music theory, ear training and coaches the TCU Harp Ensemble
as well as maintaining a private studio. After receiving her Bachelor of Arts from
Oakwood University, she went on to Doctoral studies at the University of Texas in
Austin
In 2019, Mallory was named a Young Artist in Residence with American Public Media's
program. She was the first harpist to air on the show. An avid performer, she enjoys
premiering new works and has worked with several composers creating new works for
harp. Mallory is passionate about increasing diversity in the performing arts and recently
presented a recital focusing on works of Black women composers.
Past Hangin' with the Harps
9/21/21: Follow Your Heart Strings: Make Each Move Count! with Angelica Hairston
A PDF for this session can be found HERE.
8/16/21: Take a Break! featuring Rhett Barnwell, Candace Lark, and Amanda Whiting
7/20/21: Buzz off! Replacing with Care and Clarity with Josh Layne
A PDF for this session is available here.
6/15/21: Go with the Flow with Sunita Staneslow
A PDF for this session is available HERE.
5/18/21: An Afternoon with Bernard with Megan Metheney
4/20/21: It Takes Three! with Felice Pomeranz
3/20/21: Spontaneity for the Soul with Amanda Whiting
2/16/21: "And All That Jazz" - Frank Voltz
1/19/21: "Keep Happiness in Your Harping" - Candace Lark
4 Steps to Happy Harping Worksheet
12/15/20: Hangin' for the Holidays Concert
Click here for the program!
And for a tasty treat, check out these recipes recommended by our hosts and guest artists!
11/17/20: "Sending your Virtual Self: Harp for the Holidays" - with Jan Jennings
10/20/20: "Is Bach Better on Harp" - with Parker Ramsay
9/15/20: "Fall-ing in Love with Practicing Again!" - with Ela Szmyt
Click HERE for this session's PDF!
8/11/20: Working Smarter, Not Harder - with Robbin Gordon-Cartier
8/4/20: Orchestra 101 - with Maryanne Meyer
7/28/20: For the Record - with Rachel Lee Adams
7/21/20: Beyond the notes...paint a musical picture - with Merynda Adams

7/14/20: Connection and Resilience during Covid - with Elizabeth Steiner
6/30/20: Finding Your Voice - with Brandee Younger
6/23/20: Why Theory? - with Colleen Potter Thorburn

6/16/20: A Harpist's Guide to the Orchestra! - with Maryanne Meyer
6/9/20: Arangging 101 - with Rhett Barnwell