Atlanta Harp Center's 15th Anniversary Concert "Celebration!"
October 22, 7:30pm EST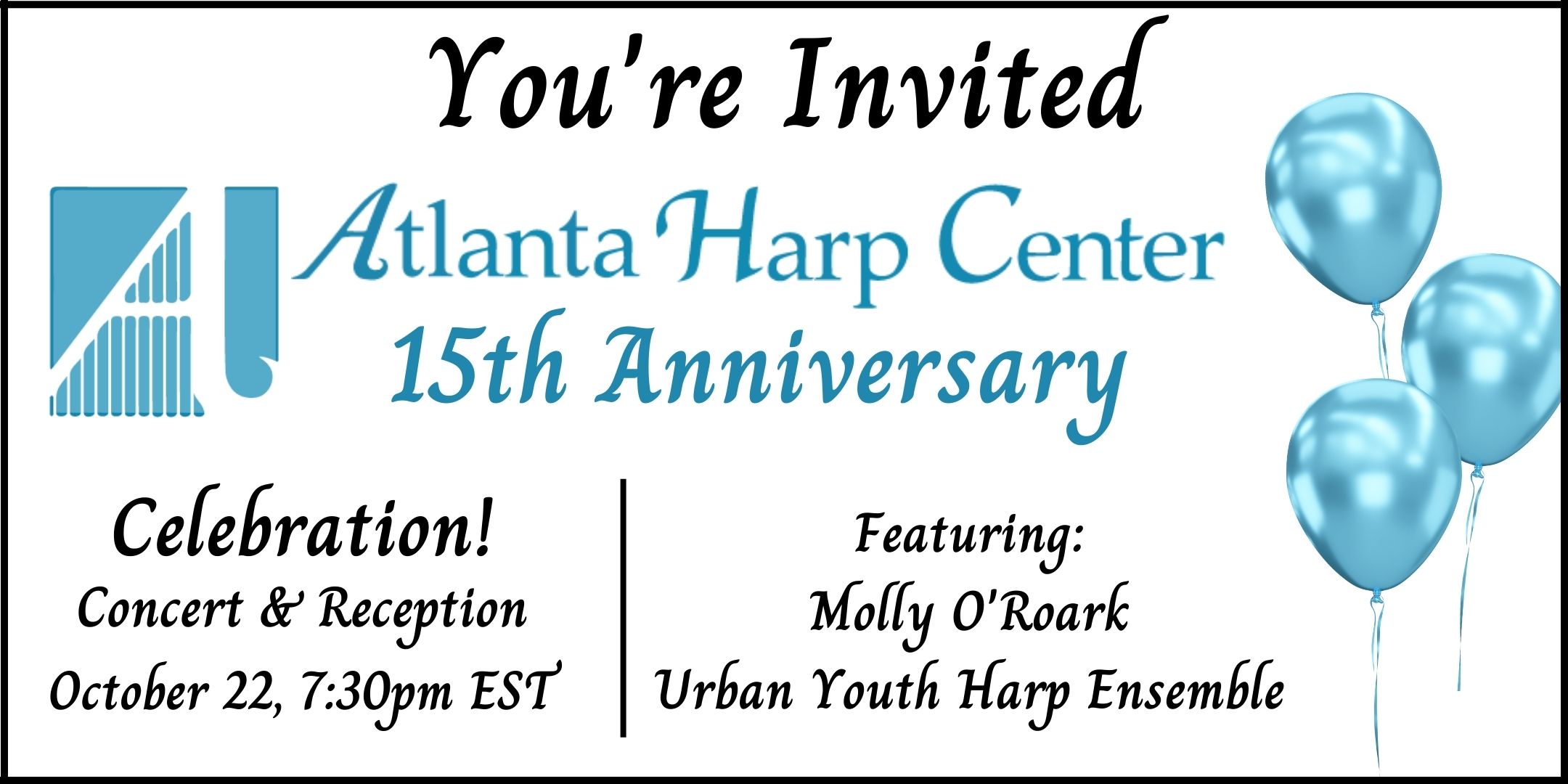 Atlanta Harp Center will be celebrating our 15th anniversary this October and invite you to celebrate with us! On October 22 we will be hosting a concert featuring Molly O'Roark and members of the Urban Youth Harp Ensemble beginning at 7:30pm EST in the Atlanta Harp Center showroom followed by a brief reception.
Tickets are free but in-person capacity is limited.
This event is now at capacity! - Add your name to the waiting list by emailing info@atlantaharpcenter.com. Patrons on the waiting list will be contacted one week before the concert in the order placed on the list as tickets become available.
For patrons who are not able to join us in-person, this concert will also be streamed via Zoom.
Click HERE for the concert program.
Streaming Options
Zoom: https://us06web.zoom.us/j/87063962551
https://www.facebook.com/AtlantaHarpCenter
Meet the performers!
Molly O' Roark
"Molly O'Roark, a native of Memphis, TN, is a dynamic performer and composer known for crafting exciting and energetic programs that showcase her love of music and the harp as well as enhancing the traditional concert experience. Currently based in Atlanta, GA, Molly is a full-time harp instructor with the Urban Youth Harp Ensemble, a nonprofit organization that offers free harp instruction to students (grades 6-12) in the Atlanta Public School system both in-school classes and in an afterschool program that serves over 80 students. An award-winning harpist, she has been bestowed with many honors including a winner of 2014 National Anne Adams Awards, the 2014 Artist Presentation Society Auditions in St. Louis, Missouri—O'Roark is the first harpist to win this competition in its 70 year history, the Roslyn Rensch Harp Fellowship to the University of Illinois at Urbana-Champaign, the Wayne Barlow Award for excellence in harp performance from the Eastman School of Music, and Abell Family String Scholarship from the Greater Community Foundation of Memphis."
Learn more about Molly O'Roark on her website: www.mollyoroarkharpist.com
Urban Youth Harp Ensemble
"THE MISSION OF THE URBAN YOUTH HARP ENSEMBLE IS TO DELIVER QUALITY MUSICAL INSTRUCTION ON THE HARP, DEVELOP MUSIC READING SKILLS AND MUSICIANSHIP. "
Founded in 2000 by harpist Elisabeth Remy Johnson and Atlanta Public Schools music teacher Roselyn Lewis, the Urban Youth Harp Ensemble is a non-profit youth ensemble consisting of more than 80 students from the Atlanta Public School System. Students are offered quality harp instruction during in-school and after school programs. An advanced honors ensemble featuring 4-6 harpists represent the Urban Youth Harp Ensemble during public performances.
Learn more and support the Urban Youth Ensemble: www.urbanharp.org